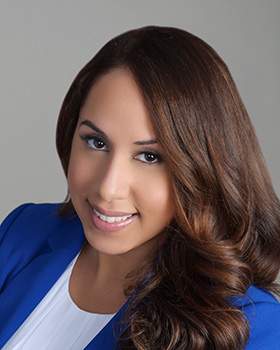 She has specifically focused on the experiences of multilingual learners, their families and communities. The award recognizes contributions to campus life, community building, advocacy or civic/community accomplishment. 
De Oleo-Gregory was nominated by a faculty member in her program, along with every member of the 2021 Urban Education Policy program. Her peers share that "throughout this particularly trying year, Yisel has served as a true north star for our cohort. She steadfastly upholds a commitment to equity and community which clearly animates all of her endeavours, both professional and personal."
Since beginning her program virtually in June 2020, De Oleo-Gregory has worked with the Rhode Island Department of Education (RIDE) and with Providence School District (PPSD) to strengthen their family and community engagement initiatives, especially in bridging the cultural and linguistic gap across the state's diverse communities. 
Emily Kalejs Qazilbash, Professor of the Practice of Education, explains that in addition to using evidence-based best practices to inform the state's practices, De Oleo-Gregory took the lead in advancing innovative ideas in tracking districts' progress in community engagement. "Her outstanding work not only broadens family engagement but creates professional opportunities in inclusionary practice for teachers in Rhode Island's schools."
Before De Oleo-Gregory started her program she reached out to begin her independent study even before the fall semester started. She was eager to gain research-based knowledge about immigrant/minority family engagement for her work with the PPSD. For one of her final projects, De Oleo-Gregory and another student developed a rigorous and realistic proposal to evaluate the effect of having bilingual college counselors in Providence Public Schools.
The majority of De Oleo-Gregory's work this academic year has been specifically with RIDE. One of her primary goals was to focus on the accessibility of documents for families who do not speak English. She translated materials into Spanish and hosted community sessions fully in Spanish as a representative of RIDE. She has helped to build relationships with families and more broadly in the community. She also notably is in the process of finalizing a multilingual learner student and family "Know your Rights" document.
Of this work, De Oleo-Gregory says, "We must educate our families in a language that they understand and empower them to the point where language no longer hinders their ability to support their children's learning."
Additional projects she produced include a Spanish-language podcast for the local community and parent videos on the ACCESS testing process for students who are English Language Learners. Through her research on family engagement among Spanish-speaking families in Rhode Island, she has provided recommendations to the Rhode Island Department of Education on how to increase multilingual immigrant family engagement.
"As a first-generation immigrant from the Dominican Republic, whose parents did not speak the English language, I faced insurmountable challenges in the K-12 education system. This work is at the core of who I am," says De Oleo-Gregory.
"Throughout her year at Brown, Yisel has tirelessly advocated for the importance of driving academic conversation with a focus on the needs of multilingual learners. Her advocacy has extended to her own cohort of masters students, where she has been a voice ensuring that students - especially graduate students of color - have access to support needed to complete and thrive in the program during this virtual year," says Kalejs Qazilbash. 
Her fellow students share that "she has checked in with literally every person in our cohort of 22 students to make sure each person is doing okay and not feeling isolated. As she sees peers struggling throughout the semester, she goes out of her way to point them in the direction of the necessary resources for their situation,"
They share many examples of her advocacy and care, including helping a classmate who was experiencing food insecurity to get meals and work on a more permanent solution and spearheading a successful effort for her cohort to gain access to tutors for challenging economics and statistics courses.
Beyond her work in the classroom, De Oleo-Gregory began work as the Director of Family Engagement at the College Crusade of Rhode Island on March 26 and will transition to a full-time schedule after graduation. While at Brown she was also the recipient of the Urban Education Fellowship.
To learn more about her work and research at Brown:
On winning this award, De Oleo-Gregory shares, "As a former multilingual learner, I feel obligated to move this work forward. This unexpected recognition motivates me, even more, to continue to advocate for multilingual students and families."
Learn more about the Master's awards winners in the categories of academic achievement and engaged citizenship.