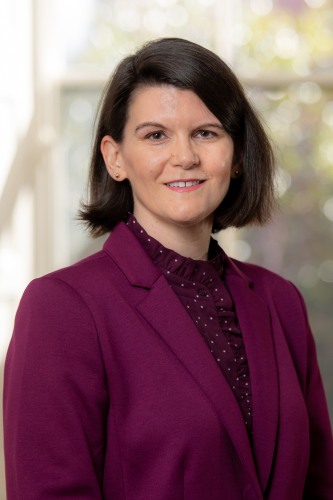 Sarah Delaney
Senior Associate Dean of Academic Affairs, Professor of Chemistry
Areas of Expertise
Liaison to programs on academic affairs, Doctoral/MFA program reviews, Academic affairs policy, Academic issues/concerns, Academic code cases for doctoral students
Sarah Delaney is the Senior Associate Dean of Academic Affairs for the Graduate School and a Professor of Chemistry at Brown University. In her role at the Graduate School, she is responsible for the academic excellence and integrity of all doctoral programs. Dean Delaney has been involved with graduate education for many years having served as the Director of Graduate Studies in Chemistry, as a member of the Brown University Graduate Council, on the advisory board of the Initiative to Maximize Student Development program, and as a graduate trainer on several training grants from the National Institutes of Health.
Dean Delaney joined Brown University in 2007. Research in her laboratory is focused on establishing a chemically logical roadmap to understand how DNA damage relates to genetic change and human disease. Her research is funded by the National Institutes of Health and National Science Foundation. In recognition of her research accomplishments, she was awarded an Outstanding New Environmental Scientist (ONES) Award from NIH/NIEHS. Attesting to her skills and commitment to mentoring and training the next generation of scientists, Dean Delaney was awarded the Philip J. Bray Award for Excellence in Teaching in the Physical Sciences from Brown University and the Brown University Graduate Student Mentoring and Advising Award. In addition to researching the biochemistry of DNA damage she has an interest in cooking and how chemistry influences food. She teaches Chemical Biology, Organic Chemistry, a professional development course for graduate students, and a broad interest course Kitchen Chemistry. 
Dean Delaney received her B.A. degree in Chemistry from Middlebury College where she conducted research with Sunhee Choi on the mechanism of action of cisplatin anti-cancer analogs. She completed her doctoral work at the California Institute of Technology with Jacqueline Barton defining the ability of DNA to serve as a medium for charge transfer reactions. She was a Damon Runyon postdoctoral fellow with John Essigmann at MIT where she studied the mutagenicity and toxicity of oxidized guanine lesions.