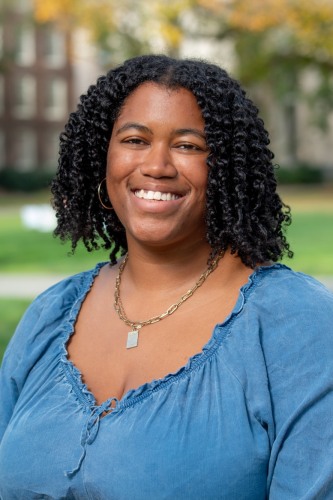 Maija Hallsmith
Assistant Director of Academic Diversity
Areas of Expertise
Diversity, equity and inclusion programming and outreach, Graduate program climate and community support
Maija Hallsmith is the Assistant Director of Graduate Academic Diversity. Her work focuses on graduate program climate and community support, as well as diversity, equity, and inclusion programming. In her position, Maija also assists with the recruitment and retention of graduate students from historically underrepresented groups, including graduate student group support, event planning, and individual advising.   
Prior to this role, Maija was the inaugural diversity initiatives program coordinator in the graduate school. In this role, she was able to institutionalize programming for graduate students of color, including diversity preview day and the graduate student of color orientation.  She also played a pivotal role in advocating for increased support for graduate student affinity groups and creating more robust recruitment partnerships with institutions.
Maija is a graduate of The George Washington University where she earned her B.A. in international affairs.