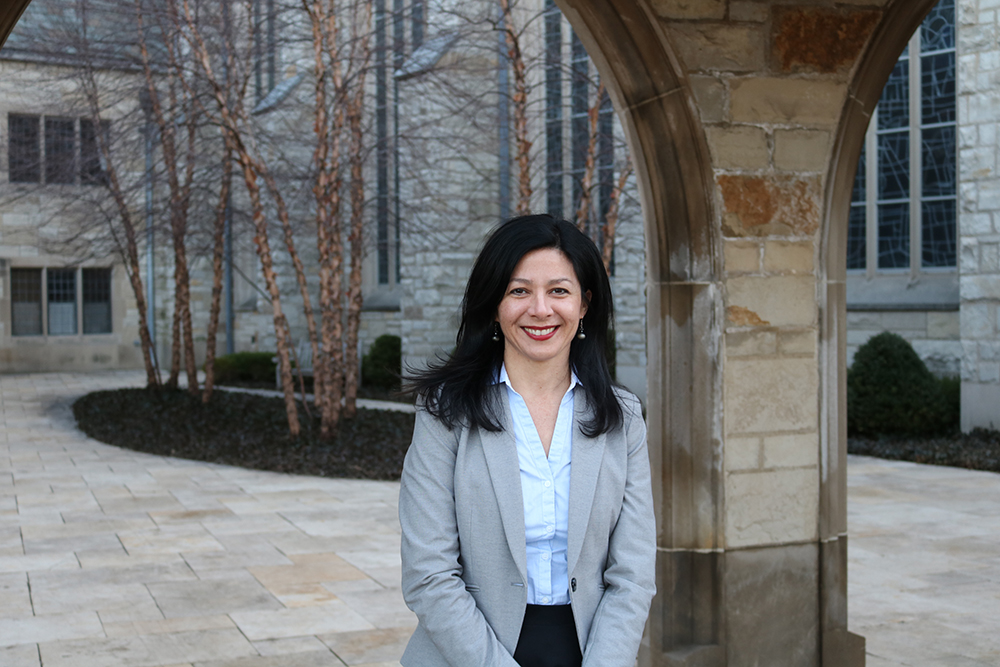 Jennifer Lackey '00 Ph.D. is the 2023 recipient of the Horace Mann Medal. Lackey received her Ph.D. in Philosophy and is currently the Wayne and Elizabeth Jones Professor of Philosophy and Professor of Law (courtesy) at Northwestern University. She is also the Founding Director of the Northwestern Prison Education Program, a partnership between Northwestern University and the Illinois Department of Corrections, and the only bachelor's degree-granting program for incarcerated students offered by a top 10 university in the United States.
"Lackey is, by any measure, one of the top intellectual leaders in her field. But she is also one of those scholars who has taken extremely seriously her mission to apply her scholarly expertise outside the academy in a way that contributes to society at large," says David Christensen, Professor of Philosophy at Brown University and one of Lackey's nominators.
Lackey specializes in the field of epistemology—the study of cognition and inquiry. She is at the forefront of social epistemology, a movement to reorient this field from a narrow focus on the beliefs and knowledge of individuals toward a recognition that believing and knowing are deeply social phenomena. Her work also explores the social, political, legal, and moral dimensions of how we treat other cognitive beings—how we come to believe, or to reject, what they tell us.
While at Brown, Lackey's dissertation focused on the epistemology of testimony—how we acquire knowledge from the written or spoken word of others. Several years after being hooded by her mentor, Ernest Sosa, she received the Charles A. Ryskamp Research Fellowship through the American Council of Learned Societies (2007–2008) for research that culminated in her first book, Learning from Words: Testimony as a Source of Knowledge. Lackey continues to be a central source for scholars working in the area of epistemology of testimony.
Lackey's work with the Northwestern Prison Education Program (NPEP) has been transformative, both for those incarcerated and for her own work in philosophy. NPEP has grown since its launch in 2018 to include 100 incarcerated students from across the state of Illinois and its first cohort of students will make history this fall when they graduate with bachelor's degrees from Northwestern University.
Pierre James, one of her students at Stateville Correctional Center says, "Jennifer Lackey, through her selflessness, has made the impossible possible. She entered a place of misery and created an environment of hope thriving in academia. She breathes life and love into all of us. Because of her positive energy in my life, everyday I'm a better man than I was the day before." His classmate, Lynn Green, concurs, saying that "On this tumultuous journey, searching for knowledge, striving for excellence, we found ourselves."
The impact of the program has been enormous, not only for the students enrolled in it, but also for their families and communities. As Stateville student Brandon Perkins says, "My father and my cousin (who was more like the older brother I never had) went to prison before me, plus a handful of other relatives. For me, NPEP is the hammer that will break the generational chain of incarceration that has plagued my family."
Lackey has authored three books and edited five, her numerous papers frequently appear in top journals, and she has presented her work across the globe. Hearing from her students about their experiences with the legal system inspired Lackey's most recent book, Criminal Testimonial Injustice. Jason Stanley, Jacob Urowsky Professor of Philosophy at Yale University, writes, "Jennifer Lackey's Criminal Testimonial Injustice is a systematic indictment of America's criminal legal system. With extraordinary care and rigor, and a background of justified moral outrage, Lackey draws on a detailed knowledge of criminal law and case history to lay out the myriad ways in which our criminal legal system wages epistemic war on those accused of crimes. This work is a framework altering contribution to the analytic tradition in philosophy." And Michael Patrick Lynch, Professor of Philosophy at the University of Connecticut, describes this book as a "deeply important work by one of the most important epistemologists now working."
Lackey's leadership in the field is evident in her positions as Editor-in-Chief of two major journals in the field, Episteme and Philosophical Studies, as well as in her recent term as President of the American Philosophical Association's Central Division.
Lackey has also won many awards, including the Lebowitz Prize for Philosophical Achievement from Phi Beta Kappa, two $1 million grants from the Mellon Foundation for her work on transforming prison education, a Guggenheim Fellowship to support her work on criminal testimonial injustice, and a $300,000 grant from Northwestern's Buffett Institute to launch her new global project on epistemic reparations.
In collaboration with a highly interdisciplinary group of colleagues, including historians, journalists, lawyers, artists, social scientists, and other philosophers, Lackey aims to expand the UN's framework of human rights so that it explicitly recognizes our right to epistemic reparations, including the "right to be known"—to have our stories of gross violations of our human rights acknowledged by others. With work situated in South Africa, Canada, and Ukraine, as well as in Chicago and Evanston, the project will bring academic theory into direct contact with real world concerns.
This builds on Lackey's previous work in public philosophy, including opinion pieces for the New York Times and the Washington Post, in which she argues for an end to the death penalty and natural life sentences on the grounds that it is irrational for juries to reach such long-term decisions on the basis of evidence from only a narrow section of a defendant's life. She has also contributed to other important debates by editing volumes and publishing work on academic freedom and on issues in applied epistemology, such as belief polarization, political disagreement, and consent.
Prior to attending Brown, Lackey graduated from Saint Mary's College, Notre Dame in 1994 with a B.A. in philosophy and from the University of Chicago in 1995 with an M.A. in philosophy.