Bahati Nkera, Graduate Students of Color (GSOC) Coordinator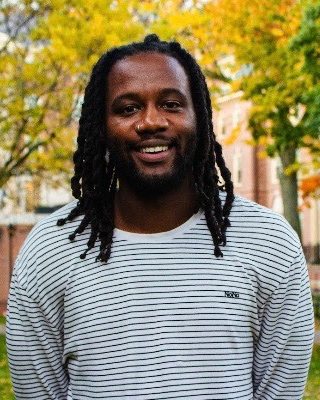 Bahati (he/him/his) is a Neuroscience Ph.D. candidate studying the neural underpinnings of murine pheromone signaling and processing. When he's not in the lab trying to cook up the perfect love potion for his mice, you can find him zipping through campus on his bike, striking up conversations with other grad students of color, planning/attending GSOC community events, or writing/performing poetry. Alongside a passion for science, the arts, and community, Bahati also enjoys traveling and spending time with his family. 
Feel free to reach out to Bahati if you have any questions, comments, or concerns regarding GSOC life here at Brown. Bahati (and the Brown Center for Students of Color at large) are also willing to help sponsor or develop any GSOC-centered initiatives that students or graduate affinity groups may have. You can reach him at gsoc_initiative@brown.edu.
Follow the Brown Center for Students of Color on Facebook & Instagram & sign up for their Graduate Students of Color Community Newsletter.
Ugoji Nwanaji-Enwerem, Global Brown Center (GBC) Graduate Student Coordinator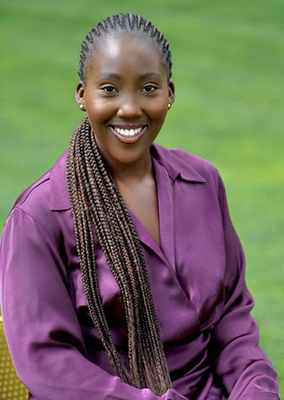 Ugoji (she/her/hers) is a current MD-Ph.D. student at Brown. Her passions range from biomedical and public health research, teaching and mentoring, and community outreach. She is the daughter of Nigerian immigrants and was raised with a deep appreciation for her roots. Her culture, heritage, and background have had a deep influence on her desire to give back to the larger international community at Brown which she is eager to do through her role as the 2022-2023 Graduate Student Coordinator. Ugoji looks forward to establishing and leading several events and initiatives for the graduate international student community at Brown, seeking to have a positive impact on creating a meaningful and strong sense of home away from home.
Ugoji would love to hear from you! To gain more information about the needs and interests of international graduate students on campus as they relate to the GBC, we would appreciate it if you would take less than five minutes to complete this survey. Responses will be kept anonymous. Have a question or idea for Ugoji, she can be reached at gbc@brown.edu.
Follow the Global Brown Center for International Students on Facebook & Instagram & sign up for their newsletter.
Carlissa Arrow, Undocumented, First-Generation College, and Low-Income Student Center (U-FLi) Graduate Student Coordinator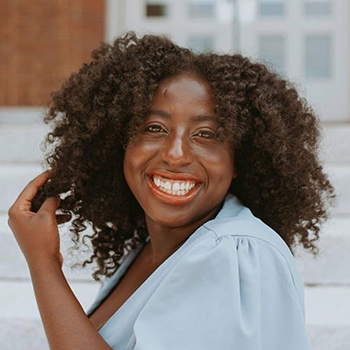 Carlissa (she/her/hers) is a master's student in Design Engineering at Brown University and Rhode Island School of Design. Her work mostly focuses on product design and development for consumer goods, such as toys, electronics, and home goods. Also, she pursues personal interests in entrepreneurship and biodesign. 
This year, Carlissa works part-time as the Graduate Student Coordinator at the U-FLi Center. The U-FLi center is a resource and advocacy center for Undocumented, First generation, Low income students at Brown University. U-FLi is located on the 5th floor of the Science library and lacks a dedicated space for U-FLi students. Therefore, her main goal as a Coordinator is to connect U-FLi graduate students to the physical space through community-centered programming, while overcoming the unique barriers for master's students. She hosted events for Thanksgiving and Valentine's day to gather students to connect them to one another, build community bonds, and potentially advocate for the resources they need. There are more events coming up this semester and she is grateful to work with such an important group of students on campus. Have a question or idea? Email uflicenter@brown.edu.
Follow the U-Fli Center on Facebook and Instagram & sign up for their newsletter.
Eli Waserman, LGBTQ+ Center Graduate Student Coordinator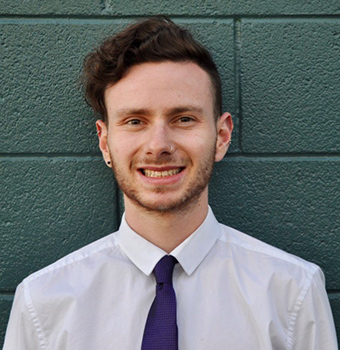 Eli Waserman (he/him/his) is the Graduate Student Coordinator at the LGBTQ+ Center. He is also an MPH student at the Brown School of Public Health concentrating in Health Behavior. His research and career interests focus on queer sexual and reproductive health in clinical settings. At the LGBTQ+ Center, he is hosting many events this semester. Join us for conversations on queer health on March 6th and April 10th (all students welcome). He also work to plan graduate and medical student socials. The LGBTQ+ Center @ Stonewall House is a gathering place for the queer community at Brown, and he loves being a part of it. If you are interested in our events, or would like to get more involved, he can be reached at lgbtq@brown.edu.
Also check out our link tree, where you can signup for our weekly newsletter and QA-GRAD/MED (the graduate and medical student listserv). Follow us on instagram and look for our events on Events@Brown and Today@Brown emails.
Theresa Vimbanayi ChowaTheresa Vimbanayi Chowa, Sarah Doyle Center for Women and Gender Graduate Coordinator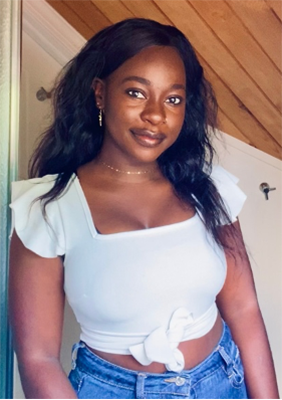 Vimbanayi is a master's student in Public Affairs at the Watson Institute. She is passionate about social policy issues particularly women and gender issues and their intersections. Vimbanayi was born and raised in Harare, Zimbabwe and her upbringing has influenced her career, academic, and community engagement interests. 
At the Sarah Doyle Center, Vimbanayi works to create programming that is inclusive and focused on community building for graduate students. The Sarah Doyle Center seeks to provide a comfortable and engaging space for women, non-binary, and gender-diverse people, and all those interested in exploring gender and its intersections with other identities. Vimbanayi l; looks forward to connecting with graduate students through our programming events this semester.
Feel free to reach out to Vimbanayi at sarah_doyle_center@brown.edu if you have any questions, comments, or concerns about the Sarah Doyle center and our graduate programs and resources.
Follow the Sarah Doyle Center on Facebook and Instagram & sign up for their newsletter, also check out their link tree for more information on Center events and resources.