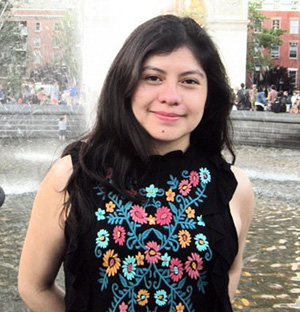 "Her dissertation is innovative in terms of scope, method, and disciplinary crossings," shares Julio Ortega, Brown professor of hispanic studies.
Barja Cuyutupa's dissertation addresses the aesthetic and existential repercussions of the Cuban Revolution through the work of a diverse set of poets from Latin America, a topic that has received little academic attention to date. She includes Nicolás Guillén, Roque Dalton, Claribel Alegría, Nancy Morejón, Gioconda Belli, Nicanor Parra, and José María Arguedas in her study. Barja Cuyutupa approaches these poets in a non-traditional way by analyzing the changes that the ideals of the Revolution caused in their worldview, which can swing from enthusiastic to critical. Her work gives a comprehensive review of the Latin American poetic map between the 1960s and the 1970s.
"Building upon poetry enriched by black, indigenous, and feminist perspectives, Ethel demonstrated that poetry challenged the rigid structure of the language of the Cold War and created an alternative archive of hope and insurrection that opened new possibilities for international solidarity," says Ortega.
This award reinforces the relevance of the study of Latin American poetry of the 1960s and 1970s in conversation with revolutionary ideals, shares Barja Cuyutupa.
A book, based on her dissertation, will be published by Iberoamericana/Vervuert Publishing House. Barja Cuyutupa is also the author of five books of poetry. Her work explores scarcity, violence, and transformative futures. Her latest poetry collection, Hope is Tanning on a Nudist Beach (forthcoming, 2022), has been awarded the Oversound Poetry Prize.
Barja Cuyutupa just completed teaching as a Deans' Faculty Fellow and has accepted a position as an Assistant Professor in the Department of Modern Languages at Salisbury University, starting next fall.
"As a mestiza Andean woman who has migrated for education many times, from contexts where not much is expected from women and where scholarly and artistic aspirations are undermined by lack of opportunities, this award means a lot to me," says Barja Cuyutupa.