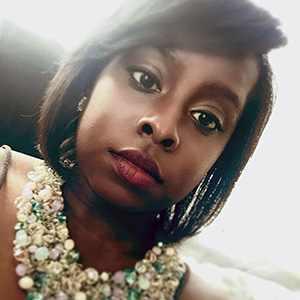 Her work has revealed new information on the aging process in humans through her dissertation entitled: Deciphering FOXOs role in Promoting Longevity through Transcriptional and Epigenetic Regulation.
Brown's research investigates a specific molecular pathway that is well-known to impact healthy aging and longevity, called the Insulin/IGF/FOXO pathway. Prior to beginning her doctorate, a number of studies in model organisms had shown that a transcriptional regulator called FOXO3 was an important component of cellular health.
How FOXO3 functions in human cells to promote cellular health was not known; so Brown sought to tackle this gap in the research. "Her project was bold and broad in scope, and included several genomic approaches to test the hypothesis that FOXO3 functions by reconfiguring the structure of chromatin (DNA and proteins) in human cells, says Ashley Webb, the Richard and Edna Salomon assistant professor of molecular biology, cell biology, and biochemistry. 
Through her experiments and extensive analyses in Webb's lab, Brown made the discovery that FOXO3 can dramatically alter chromatin at thousands of locations throughout the genome, and she linked these changes to activation of genes involved in stress responses, inflammation, and cellular senescence. In subsequent experiments, she also identified proteins that partner with FOXO3 to perform these important functions. 
"Her work changes the way we think about how Insulin/IGF/FOXO signaling functions to regulate human cells and tissues to handle stresses associated with aging," says Webb.
Chapter two of her thesis can be found on Biorxiv, an open access preprint repository for the biological sciences, and she is seeking to have it published in a peer reviewed journal. She also plans to publish additional papers based on her research. 
Outside of the lab, Brown has presented talks and posters at several departmental events, as well as national and international conferences, and was praised by her nominators for being able to clearly communicate complex scientific concepts to a lay audience.
Brown currently works as a postdoctoral researcher in the Webb lab.