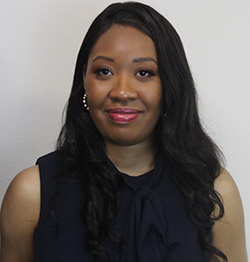 K. Patricia Cross Future Leaders Award
She will be recognized at the AAC&U's Annual Meeting in January.
"I am grateful and encouraged to have years of vision, strategy, and labor recognized by the American Association for Colleges and Universities. I look forward to becoming part of this higher education community and meeting many inspiring colleagues who strengthen and inform future projects," says Threatt.
Threatt is also an Interdisciplinary Opportunities Fellow in the Writing Center, where she created and launched the Write Your Way initiative. The goal of Write Your Way is to support the rhetorical development of students in preparation for college-level writing while introducing antiracist writing practices to help them navigate white academic conventions of composition. The initiative also partners closely with the host school's English faculty to support their development of antiracist writing instruction pedagogies.
"My work in the Writing Center is motivated by a desire for and commitment to equity and access. Write Your Way is a clear manifestation of those values," shares Threatt.
Central to her work at Brown is Threatt's dissertation research, which is titled, "Monstrous Fugitivity: Reading Slave Legacies in Black Women's Speculative Fiction." It is a directed analysis of how the reality and consequences of slavery are represented in speculative fiction as a way to reimagine Black subjectivity and liberty in the afterlife of slavery.
Before coming to Brown, Threatt completed her undergraduate degree in English Literature and Theatre with a minor in Africana Studies at Rhodes College in Memphis, TN. She was recognized in all three departments for her contributions and passion and inducted into the Rhodes College Hall of Fame upon graduation.
"My heart has always been set on service at whatever level of academia I've found myself," Threatt reflects. "I don't expect that to ever change, only evolve."