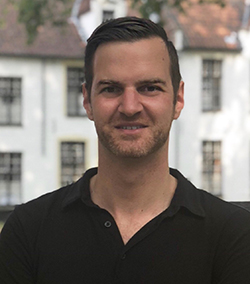 "Because writing is a social act, I see my role as helping graduate students develop as writers through building writing communities," he shares. As an alum of the Graduate School (he completed his doctoral degree in History in 2020), Carroll emphasizes how he benefited from programs offered by the Sheridan Center and Writing Center and is happy to continue supporting this work.
As part of his role, Carroll is helping to grow the Dissertation Writing Retreat and the Writing Associates program. The week-long Retreat is held twice a year and helps doctoral students devote focused attention to their writing in a holistically supportive environment while also building interdisciplinary connections. 
The Writing Associates program includes 37 graduate students who are available to offer feedback to any writer at Brown through consultations at the Writing Center. As a part of the program, Carroll provides the Associates with professional development opportunities designed to help them become better teachers and tutors.
Through both programs, Carroll is excited to see doctoral students find success in their writing. "I've enjoyed seeing Writing Associates grow into their roles and become confident tutors/teachers of writing–it's really a very satisfying process to watch," he says. Carroll has also been able to work with several graduate students who started a writing project in a dissertation retreat, which they have gone on to publish.
He is also impressed by "the extent to which graduate students care deeply about supporting all writers at Brown." As a part of the Writing Center team, Carroll and his colleagues have spent a lot of time thinking about the history and theory of practice as writing teachers and writing center professionals (a history which is at points entangled with White supremacy and colonialism). 
"We've used our understanding of that past to critique how and why we do what we do with our writers; this reckoning has led us to confront many of our own biases in the way that we teach and tutor writing, and to adjust our practices so that we can best serve all of our writers," says Carroll. 
Learn more about the Writing Center and services available for all graduate students.