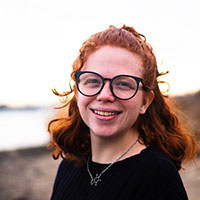 In mid-October, two of Cintron-Rivera's microscopy images won the Image of Distinction Award in the 2022 Nikon Small World Photomicrography Competition. Her image of a Zebrafish (Danio rerio) embryo head was then featured in The Late Show With Stephen Colbert on October 26 (see 3:41).
This is not the first time Cintron-Rivera has been recognized for her microscopy. She has received eight recognitions from different entities including Nikon, Olympus/Evident, and MBF (MicroBrightField) Biosciences.
Additionally, Cintron-Rivera had the opportunity to present her doctoral thesis work at the National Society for the Advancement of Chicanos/Hispanics and Native Americans in Science (SACNAS) conference in San Juan, Puerto Rico.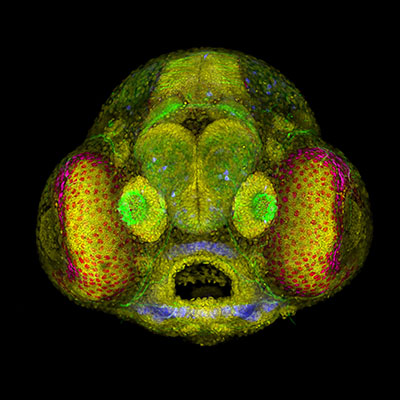 "As a Puerto Rican, it was both rewarding and humbling to return to my hometown and present my PhD research. I was thrilled to find out that my talk was recognized with the Graduate Oral Presentation Award!" says Cintron-Rivera.
This award recognizes students from historically excluded communities for their research and presentation skills. She was selected in the Geoscience and Environmental Science category. 
When she's not winning awards, Cintron-Rivera is doing research focused on utilizing the zebrafish model to study how genetic mutations and exposures to environmental pollutants affect embryonic development. Her work integrates the fields of neurobiology, developmental toxicology, genetics, and microscopy.
Shortly after she joined the Plavicki lab at Brown in 2019, she learned confocal microscopy and sample preparation techniques. Since then microscopy has been an integral part of her work.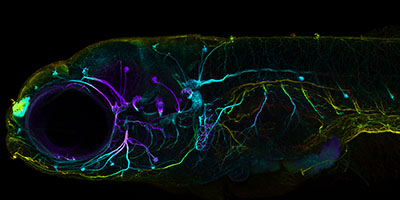 "When I was first learning microscopy, I was inspired by images from microscopy competitions, such as those seen in the Nikon Small World competition.The competitions encouraged me to cultivate an artistic outlook on microscopy and have motivated me to explore new perspectives during my imaging," says Cintron-Rivera.
After Brown Cintron-Rivera is interested in pursuing employment opportunities that utilize biological research knowledge and skills to achieve a translational impact. Cintron-Rivera is also an NSF Fellowship recipient.