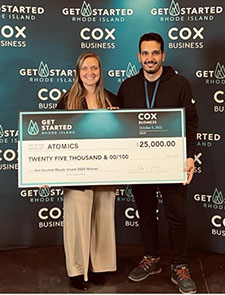 The team recently won the Get Started Rhode Island competition, which provides a prize of $50,000 cash and in kind services.
AtomICs is a Brown University startup that is "revolutionizing the way we store and process digital data by using small molecules," says Gumus. He explains that small molecules are denser, more sustainable and durable than the conventional and DNA-based systems. They also offer a more secure method to store information.
The startup was initially funded by the Defense Advanced Research Projects Agency and the National Science Foundation for a research collaboration between the chemistry and engineering departments at Brown. Gumus and Biechele-Speziale joined the team in 2021 to help commercialize the technology, connecting with Brenda Rubenstein, Associate Professor of Chemistry and Physics, and Jacob Rosenstein, Associate Professor of Engineering. 
Biechele-Speziale shares that AtomICs offers a paradigm shift in how data is stored and processed. "The market opportunities are massive, and the ways we can impact society with molecular data storage and computing are countless. We are setting our sights high and aim to change the world," she says. Biechele-Speziale will be continuing on as full-time CEO at AtomICs after graduating in 2023 and looks forward to the next several years of growth at the startup.
Gumus was first introduced to entrepreneurship through a class he took at the Nelson Center for Entrepreneurship in his first year of graduate school, "I immediately knew that I found my calling. Being president and CTO of AtomICs has been the most rewarding and interesting experience, and I look forward to continuing full-time after I graduate next year," he says.
In terms of how their startup work fits in with their doctoral degrees, Gumus shares that he currently works on the startup technology in Jacob Rosenstein's group in the engineering department. The goal of his current research project is to scale the AtomICs technology to improve the latency and density of data storage. "We are really working to take advantage of the size of small molecules that can offer up to a million times greater density than transistors," he explains.
While Biechele-Speziale's doctoral research is different from the AtomICs work, her doctoral training provides an important research framework and a technical foundation on which to understand and improve the startup technology. "My entrepreneurial experiences have elevated the quality of my doctoral research," says Biechele-Speziale. She credits her research advisor, Jessica Plavicki, Assistant Professor of Pathology and Laboratory Medicine, for her support both inside and outside of the lab. 
Both Gumus and Biechele-Speziale are extremely grateful for their experiences at Brown and the unique environment that allows them to develop as researchers and entrepreneurs. "I have found such an incredibly talented and passionate community of students that have supported and challenged me to be a better entrepreneur and person," shares Biechele-Speziale.