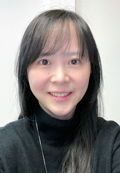 As a former international student, she is also particularly interested in helping international graduate students with their career exploration and preparation in the U.S. and abroad.  
Her number one piece of advice for graduate students to start their career exploration and preparation as early as possible. She enjoys meeting with people from various backgrounds and learning from them everyday. 
Prior to Brown, Lin worked as an academic and career advisor at Northeastern University, where she provided career and academic advising to graduate students ranging from humanities and social sciences to STEM programs. She received her Ph.D. in Musicology from Ohio State University and her bachelor of arts in Media Studies from Communication University of China.
Lin shares that outside of her work with graduate students, she is a big fan of Japanese anime and loves detective fiction, cats, and spicy food. More about Lin.
Contact information: Zhichun_Lin@brown.edu
Master's students: contact Maj Kargbo, the Assistant Dean of Career Services and Professional Development for Master's Students.