Baisch, '20 MFA was nominated for his incredible accomplishments as a playwright and visual artist; Jhaveri '20 ScM for his novel research on treatments for pancreatic and other cancers; and Jiménez '20, executive master in business administration, for his creation of two new diversity and inclusion focused workforce programs through his position at Banco Santander in Spain.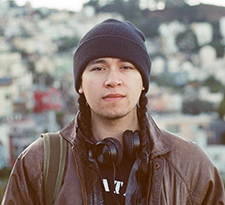 Lucas Baisch, is graduating with a master of fine arts in Playwriting. He will receive the Master's Award for Professional Excellence.
Baisch is already an incredibly accomplished playwright and visual artist. He was named one of "six theatre workers you should know" by American Theatre Magazine in 2018, was interviewed in BOMB Magazine and in March he received the KCACTF Latinx Playwriting Award from the Kennedy Center for his thesis play, Dry Swallow. This award is a national honor and includes opportunities for further professional development. Dry Swallow was first performed at Brown last fall. 
One of Baisch's recent plays examines the long-term consequences of differential access to medical care in low-income and communities of color, a topic that is particularly notable in the midst of the current public health crisis. In other scripts he examines how these same populations are impacted by varied access to affordable and safe housing and the ability to develop technological literacy.
"The trajectory of my work thus far has necessitated the convening of live bodies in space together. And now, we have to adapt. My dream is that this pandemic evokes conversations around our country's legislative support of cultural workers as laborers, and how more safety nets can be woven to catch us in times of crisis," says Baisch.
In addition to his studies at Brown, Baisch has had readings and productions in a number of venues, including the Playwrights Horizons and The Bushwick Starr in New York and Cutting Ball Theatre in San Francisco.
"Lucas's growing body of work is all remarkable: formally adventurous, intellectually ambitious, and politically razor-sharp," says Julia Jarcho, Associate Professor and Head of Playwriting in a nomination letter from Patricia Ybarra, Professor and Chair of Theatre Arts and Performance Studies. 
As for the future, Baisch says his plan is remain persistent. Prior to the shutdown of live events, he had a reading of one of his plays programmed at the NYC theater Clubbed Thumb and a developmental residency offered through the award he received from the Kennedy Center for the Performing Arts. Both have been postponed. "I have full faith that these opportunities will happen once we are all able to convene again," says Baisch.
Baish shares that this award is a reminder of Brown's commitment to recognizing artists as scholars in their own right. "The work I have done to professionally advance my career while at Brown has not only been to supplement a lifelong trajectory in writing, but also to satiate my heart - to make connections with people I wouldn't otherwise have access to."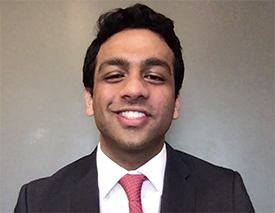 Aakash Jhaveri will graduate with a master of science in Biotechnology and will receive the award for Outstanding Academic Accomplishment by a Master's Student.
Jhaveri's current research focuses on translating a novel combination treatment from the bench to the bedside for treating patients with pancreatic and other cancers. His experiments will likely lead to innovative clinical trials in pancreatic cancer as well as other cancers, providing hope and potential treatment options for patients, shares his advisor, Wafik S. El-Deiry, Professor of Medical Science, Pathology and Laboratory Medicine and Director of the Brown University Cancer Center.
Jhaveri shares that his research journey began as a high school student when he won multiple local and regional science fairs. "Ultimately, this journey brought me to the Intel International Science and Engineering Fair, where I received fourth place in the cell and molecular biology category."  Jhaveri went on to attend Hofstra University on a Presidential Scholarship before coming to Brown. 
Jhaveri's current research will result in several manuscripts, including two first-author papers and two co-author papers, which are in their final stages of preparation. He will also be a co-author on an invited review in Neoplasia. His lab research also resulted in an accepted first-author conference abstract for the 2020 American Association of Cancer Research conference. 
Beyond his courses and lab research, Jhaveri was a teaching assistant for the course, Applied Cell and Molecular Biology, and volunteered at a free health clinic in Providence. He also mentored a Leadership Alliance student during the summer. 
"Aakash's tenure and accomplishments as a master's student have been nothing short of exceptional. He is deeply passionate about bringing research to patients, and his work is providing him with a solid foundation," says El-Deiry.
Jhaveri plans to attend medical school next fall and is waiting to hear from a few more schools before he makes his final selection.
"Winning this award is a tremendous honor for me. The award serves as recognition for the time and effort I spent working on my thesis. Even more so, the award shows how lucky I am to have such quality support from Dr. El-Deiry, lab members, and family," says Jhaveri.
Manuel Jiménez will receive the Master's Award for Engaged Citizenship and Community Service and graduates with an executive master in business administration through the joint degree program with Brown and the IE Business School in Spain.
His full-time position is for Banco Santander in Madrid, Spain as the Talent Acquisition Director.
"Manuel is an excellent example of IE Brown EMBA student who through coursework in the program has found ways to improve his organizations and support for customers," share his nominators.
Through his experience in the EMBA program, Jimenez commits that his next professional steps will continue to "anchored in the values that I have acquired and that are reinforced throughout the program: promoting tolerance and respecting diversity, making a positive contribution to our communities, honoring the planet we inhabit and developing new opportunities for those who play with disadvantages."
Jiménez has launched several inclusion programs inside Banco Santander in recent years. Inspired by his master's course Strategy and the Intersection of Business and Society, he initiated Santander Reencuentra, a program designed to help women who left their professional careers and now seek to re-enter the labor market. The program aims to help women find jobs in small to medium size companies close to their homes. The program offers professional experience in Santander branches, online MBA course, digital tool training, mentoring from branch managers, on the job coaching, and assistance from an outplacement firm with job search efforts.
Jiménez was also part of a team that launched Summer Experience, a project for the integration of university students with disabilities into the workforce. This is especially important to assist the more than two million disabled people of working age who represent a disproportionate percentage of the unemployment rate. "Through this initiative, more than 100 students are hired to work in our branches during the summer, so they can enrich and enhance their CVs with a professional experience that is entirely compatible with their studies," says Jiménez.
"It has been an unexpected recognition. I am very grateful, and I feel honored to receive it. It is also a motivation to continue implementing projects and initiatives that are aligned with our purpose to contribute to the progress of people, with a focus on those minority groups that have any sort of disadvantage," says Jiménez.