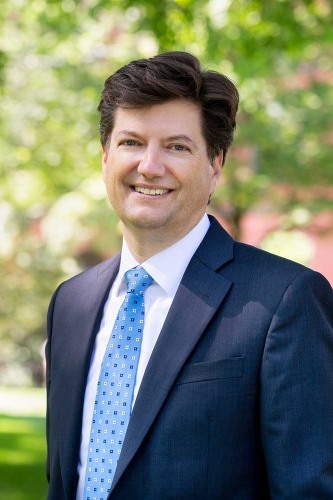 Thomas A. Lewis
Dean of the Graduate School, Professor of Religious Studies
Summer 2023 Office Hours: Mondays from 3-4 pm
Email Dean-of-GraduateSchool@brown.edu to request an in person or Zoom meeting.

No office hours the weeks of July 9 & July 16
Areas of Expertise
Academic issues, Exchange programs, Leaves of absence
Thomas A. Lewis is the sixteenth dean of the Graduate School of Brown University. His term began on July 1, 2022, initially as interim dean, then as Dean as of July 1, 2023. 
Dean Lewis is responsible for engaging and supporting nearly 3,000 students enrolled in doctoral and master's programs in more than 40 departments, centers and institutes, including the School of Engineering, the School of Public Health, the Division of Biology and Medicine, and the School of Professional Studies.
Lewis continues to advance the excellence of the University's master's and doctoral programs, increase support for graduate students and strengthen the broader structure for graduate education at Brown. He provides financial oversight and planning, oversees graduate student admission and funding, and leads the school's staff.
During Lewis's first year, he has shepherded recommendations from the doctoral education task force that he chaired in 2021-22, with a focus on promoting outstanding, innovative graduate education and preparing graduate students for their desired career outcomes.
A faculty member in the Department of Religious Studies, Lewis has taught undergraduate and graduate students and served as director of both graduate and undergraduate studies. Through his academic leadership roles and his engagement on a wide variety of committees and working groups, Lewis is driven by a commitment to supporting students, enhancing the academic excellence of Brown's graduate programs, and advancing the University's commitment to diversity and inclusion.
His scholarship examines shifting conceptions of religion, society, and the individual in Western modernity. Working at the intersections of philosophy of religion and religious ethics, Lewis also writes on religious studies as a discipline. 
His publications include Freedom and Tradition in Hegel: Reconsidering Anthropology, Ethics, and Religion (University of Notre Dame Press, 2005); Religion, Modernity, and Politics in Hegel (Oxford University Press, 2011); Why Philosophy Matters for the Study of Religion--and Vice Versa (Oxford University Press, 2015); and articles on religion and politics, liberation theology, communitarianism, and comparative ethics.
He has held leadership positions in the American Academy of Religion and served as a reviewer for the National Science Foundation.
As a Professor at Brown, Lewis was selected for the Laurance S. Rockefeller Visiting Faculty Fellowship in the University Center for Human Values, where he spent a year in residence at Princeton devoted to research and writing. Prior to his time at Brown, he also served as an Assistant Professor at the Iowa of  University, as a Visiting Fellow at Princeton, and as an Assistant Professor at Harvard University. Lewis has also received numerous other grants for his research through these institutions.
He received his undergraduate degree at Brown and his doctoral degree from Stanford University in Religious Studies. While studying at Stanford, Lewis spent a year studying at the Freie Universität in Berlin.