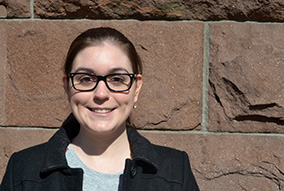 How did you hear about the BEST program? What made you want to apply?
I was looking for opportunities for professional development outside of my department and found the BEST program on the graduate school website. I had been thinking about a career in higher education administration and BEST seemed like a great way to see if that was the right choice for me.
How has or how will this program help you in your career or studies after Brown?
The program was a great opportunity to not only learn about higher education administration but also hear from people who are experienced in the field. The guest speakers provided insights into what their jobs entailed and what their day-to-day schedules were like. They also gave us great advice for our job search, such as tips for writing resumes for higher education administration jobs.
Who was your administrative sponsor and what did you learn or enjoy about working with them?
Peggy Chang, Director of the Curricular Resource Center and Associate Dean of the College, was my administrative sponsor. She took the time to get to know me when we first met and was extremely supportive throughout the program. She also invited me to several of her meetings, from which I learned a lot about the nuts and bolts of higher education administration.
What piece of advice provided by the speakers resonated most with you?
Russell Carey, Executive Vice President for Planning and Policy, spoke about the importance of knowing not only what you are interested in but also what you are not interested in. This seems simple but it really stuck with me. There is a huge variety of opportunities in the higher education administration field. Identifying your personal passions and focusing your job search accordingly can save you a lot of time down the road.
Anything else?
The BEST program is a great professional development opportunity, even for people who will not go onto work in higher education administration. For example, in my cohort there were people who knew they wanted to be professors or researchers but also wanted a better understanding of how a university operates. And even beyond universities, the BEST program teaches you skills that are applicable to a wide variety of careers and fields.